Club Management
Wine club memberships are the 'holy grail' of wine sales. For your users, signing up for a wine club needs to be intuitive and easy. For you, management of your wine club needs to be simple, and processing a wine club should be quick and painless.
Club Setup
Club processing in the backend is simple and intuitive. Creating a package and setting up shipping are also easy. Use advanced features like pre-pay option for gifts and welcome packages for instant club gratification.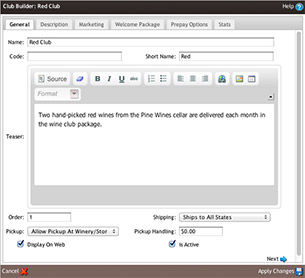 Customer Experience
Customers can effortlessly join a club online and edit their profile, membership, and credit card information. Members who sign up online have immediate access to club member discounts and benefits.
Club Processing
View a live progress bar showing you the processing of credit cards. Easily notify members with expired credit cards before each shipment.
Reporting
Track your club attrition rates, designate cancellation reasons, monitor new sign ups and calculate the true value of your club members.