Action Email
Stay relevant and keep in touch with your customers in real-time. Action email enables you to send pre-written, highly-targeted emails based on an event or purchase behavior of your customers. Whether it's a birthday, 30 days before a credit card expires or 10 days after an order is placed, it's all automated, so you can easily connect with your customers when they need you to.
---
Choose the Action
Select from a variety of different actions: Credit Card Expiring, Credit Card Expired, Club Anniversary, Club Signup, Birthday, Abandoned Cart, New Order, First Order and Repeat Order.
---
Relevant and Timely
Vin65's trigger email allows you to control which actions, the timing around the action, and control the message you want to send to the customer.
---
Set It and Forget It
You create the message; Vin65 will automatically send it out. We're not saying to you not monitor your email campaigns – you can setup action emails and let our system do the daily sending for you.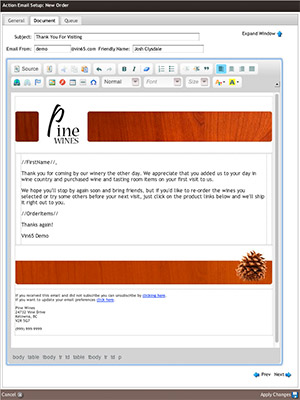 ---
Make It Personal
All messages are sent to a queue several days before sending the email. Review the queue at any time. Open an email before it's sent and add your personalized comments.
One-Click Configuration
While you have full control over emails, Vin65's one-click configure button allows you to choose from a pre-set list (our recommendations for a typical winery) of 15 different action emails with just one-click.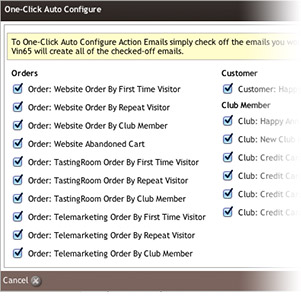 ---
Pre-Written Content
There are a number of professional pre-written emails already for you to use as a guide. Pick the action and the pre-written content will appear to help you get started and you can go from there.
---
Maintain Control
Setup is made easy with an unsubscribe/do-not-send list and the ability for you to control/avoid over-sending of action emails.
---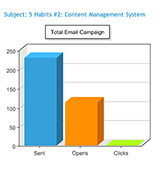 Reporting Tools
Like our general email tools, you can monitor the effectiveness of your action email campaign, such as open rates and click through rates.