Content Management
Our content management system is easy-to-use, and you can quickly edit pages, products, etc without having to learn how a complex database architecture or how computer systems work. Use the system to create an unlimited number of pages, manage your blog, create forms, upload documents and much more.
Content Management
Create an unlimited number of pages that are organized to enable easy navigation and manageability. Editing pages is very similar to editing documents in Word with features like bolding text, creating tables, adding images, and uploading PDFs or Word files.
Blog
Integrated directly with your site and RSS feeds. You're able to have multiple blog authors, set future post dates and times, allow for live, moderated or no commenting.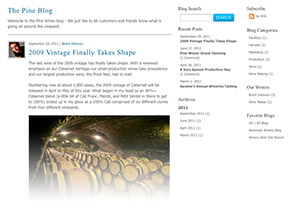 Form Builder
Build custom forms from simple yes/no questions, multiple choice answers, or complex short answer questions. These forms are great for contact us forms, registration forms, etc. All forms will automatically populate your contact database.
Event Calendars
Create as many calendars as you want and assign them to the appropriate page in your site. Events can have start dates, end dates, location, contact information, and an unlimited description.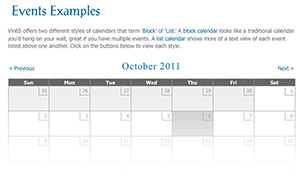 Photo Galleries
Produce multiple photo albums, add captions and descriptions, then assign a gallery to any page. Great for featuring photos on your homepage or giving a virtual tour of your winery, or allowing users to quickly browse through your photos.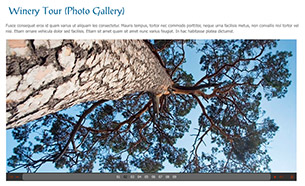 Store / Restaurant Locator
Allow customers to find the stores or restaurants that carry your wine. They can either enter a zip/postal code or a city/state and the system finds the closest stores/restaurants on an interactive Google map.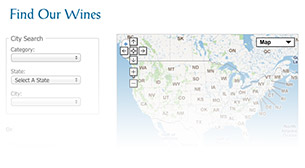 SEO / Marketing
The Vin65 system is completely search engine friendly, allowing you to set the marketing URLs and Meta Tag content for any page. Dynamically created 'site maps' are fed to Google and other Search Engine bots that read robot.txt files.
Security
Set private pages not available to the general public. Security can be set by customer type/groups (i.e. Wholesale) or clubs. Customers who belong to that type/group or club will be the only individuals who have access to that page or group of pages.