Dashboards
The Vin65 dashboard (available online and via mobile devices) is designed to give clients a "business at a glance" overview as well as an in-depth look into their sales, customer records, and clubs. Most of the graphs and charts allow for customizable date ranges, comparative time period evaluation, and exporting of data to Excel for further analysis.
Extensive Analytics
More than 20 pages and over 50 graphs and Key Performance Indicators. View Sales, Conversion, Customers, Club, and Product data.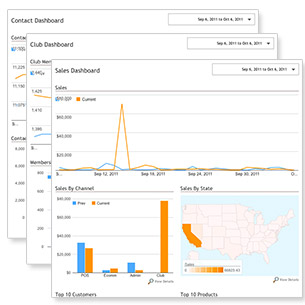 Mobile Version
View your dashboard from your iPhone, Android Phone, or Windows 7 Phone. (A great way to look at sales data while you're on the road).
Comparative Info
You don't know how you're doing unless you can compare. Dashboard allows for customizable date ranges and comparative analysis.
Multi-Vendor
View data from multiple select integrated partners (such as Napa Valley POS and WineDirect Outbound). Data is available from any vendor utilizing Vin65's APIs.
Customizable
Customizable home screen on both the mobile and regular dashboard to serve up the data that matters the most.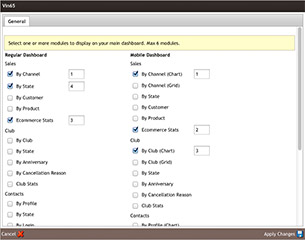 Actionable Alerts
Key information that needs attention is brought to the alert screen, such as orders stuck at fulfillment.