Mobile Platform
Surfing most wine websites on a mobile device is frustrating, involving a lot of dragging, tapping and zooming. Others launch a mobile site with limited content, and limited functionality. At Vin65 we wanted to make it better. Full mobile site - automatically created from the content of your regular site (and of course you can tweak it).
Ecommerce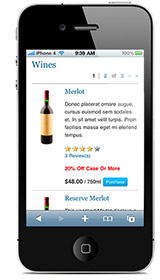 Full ecommerce on your iPhone, Android phone, or Windows 7 phone. (including clubs and allocations). Product display redesigned to fit mobile display. Mobile optimized shopping cart and checkout experience.
Club Signup
Promote your club, offer discounts, and allow customers to sign up for a club right inside Facebook.
Member Area
Customers can login and edit their profile, view order history, view their clubs, and access their credit cards - all completely secure and PCI compliant.
Management
Enter products, blogs, events, and other content once in the admin panel and it appears on both your regular website and your mobile site. Orders, club sign ups, form entry, and data flows directly into admin panel.
Content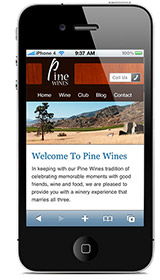 All content, links, images, etc are automatically created on the mobile site. Email or tweet out a single link and know that mobile and website visitors will both receive a correct version of the page and content.
SEO / Marketing
Marketing URLs, Meta Tags, QR codes and Google Analytics all work in the mobile commerce platform.