iPad Tasting Room App
We've watched a lot of visitors pass through our clients' tasting rooms. Instead of just letting them walk away, we wanted to do something to capture those visitors, to engage those visitors, and to start a relationship with them. In response, Vin65 offers the iPad wine app for your tasting room including interactive Tasting Sheets, Club Signup, and Touch Screen Ordering.
Contact Vin65 for pricing or more information.
Capture
Thoughtful interface to capture visitors name, email, and wine preferences while they are visiting the tasting room (Visitors can use the application without leaving their information).
Sell
Option to sell wine via an easy-to-use touch screen interface. (Great for events where you could use a few more devices to capture orders).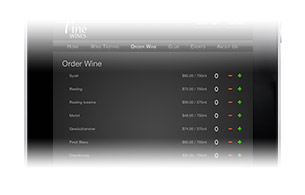 Build
Allow visitors to sign up for your wine club, newsletters, mailing lists or events while they taste your wine or as a kiosk.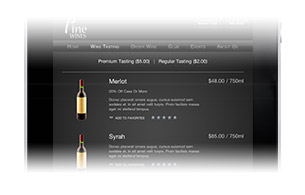 Engage
Allow visitors to follow along as they taste wines. They can learn more about the wine as they taste it, then rate it, and if they like it, mark it as their favorite.
Integrated
Fully integrated with the rest of the Vin65 platform. Customers who rate wine on the iPad will see these ratings in their profile on the Vin65 platform. List builder and other tools integrate with iPad preferences.
Explore
Give them access to winery information and events. Just like your website, the iPad is a place for visitors to explore.
What Wineries Are Saying
"The application allows us to present more information in a clear, concise, and easy-to-navigate form in both arenas. The application also creates new opportunities for sales and membership conversions at outside events. And it looks *%#&@! cool!"

Jeff Stai | Twisted Oak


"The iPad app is a very important part of our customer communications quiver allowing customers to explore information at their own pace. It appeals to those comfortable with Apple products and engages those who are keen to have their first play with an iPad. Customers can search our Brasserie menu, pull up tasting notes, sign up to Club and order wine. It receives a great deal of use and clearly adds value to the visitor experience and level of engagement."

Mat Janes | Chandon Austrailia

"In opening our new tasting room, we wanted to maintain our personal connection with our guests yet offer them an advanced way to sign up for winery communications, fill out a comment card, place an order or become a wine club member. This iPad application from Vin65 is a bridge from our winery to the customer- providing a technological convenience while offering a personal service. Utilizing this technology has been a great advancement for us in offering state of the art customer service."

Duffy Keys | B Cellars