February 7, 2012 | Ecommerce, Marketing | Josh Clysdale
4 Keys to an Effective Promotion Strategy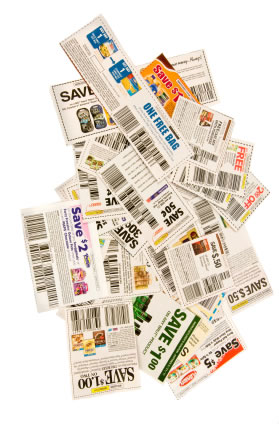 Whether it's a TV show highlighting thrifty families using coupons, or an inbox full of retail store offers, consumers are becoming more "deal" conscious when selecting where they choose to shop. In a sea of conflicting prices and promotional offers what can help your offer rise and get noticed while others sink into the proverbial junk box? Let's take a look at 4 keys to an effective coupon or promo strategy for selling wine.
1. Carefully Word Your Promotion
The way you word your promotion will not only affect how consumers read it but also how they react to it, whether they purchase or not. When wording your promotion here are a few points to consider:
Most of us are familiar with retail stores who offer sales or scratch card discounts that offer a range of percentages, say 25%-50% off. Research shows that it is better to word your offer as saving "Up To 50%" off rather than a range, because consumers will feel they are more likely to save big with 50%, even though their chances are the same if it were 25%-50% off.
Create limited time offers by having visible date ranges. Short promotions create a "now or never" urgency making customers feel that if they miss this offer, they might not get it again.
Make sure that any wording, for example promo titles, that consumers will see in their shopping cart allow them to easily recognize which coupons they are saving on.
2. Select the Appropriate Offer Type
Percentage or dollar off offers work well to generate interest for new shoppers. Club discounts that are automatic and easy to use can help promote brand loyalty and boost club memberships. However there is one promotion type that appeals to all consumers…free shipping. For our American winery clients you need to word your promotion as "Shipping Included" for legal reasons.
Here are a few compelling reasons why you should offer free shipping:
43% of shoppers abandon their shopping carts when they find high shipping charges at checkout.*
75% of shoppers prefer to shop with online merchants offering free shipping.*
50% of shoppers indicated free shipping offers made it more likely they would shop online.*
*Statistics provided by Freeshipping.org
Shipping is just one more cost that a consumer is mentally factoring in while they shop online. If you offer free shipping, it's one less item you have to worry about. Customers are more likely to buy more, more often, when they don't have to worry about additional costs.
3. Place Your Promotion Where It's Sure to Get Noticed
Make sure your offer gets noticed. Prominent places such as homepage pods or sliders make your offer visible to anyone visiting your ecommerce store. To target newsletter signups, why not add a promotion code to an automatic confirmation email giving a discount off their first order? For those offering frequent promotions, why not consider creating a page dedicated to showcasing your current offers? This will help to keep deal seekers looking for coupon codes on your site, training them to visit your site rather than searching Google for the latest deals.
4. Deliver What You Promise
Whatever your offer, make sure you test its functionality before you release it. Finding a broken promotion is disappointing and frustrating to a consumer, and may be perceived as a "bait & switch" tactic. You should let consumers know how and where to use coupon codes, and where they will see the discounts appear. Then just make sure your promotion works as described.
~~
Agree? Disagree? What promotions are working for you?
Comments
Kristina
@ Feb 7, 2012 at 8:18 AM
Great blog Josh. Another tip (and a piece of functionality that Vin 65 offers that we utilize) is to include the promo code in the url so that it automatically applies to the contents in the cart. This reduces yet another big cause of abandonment - promo code entry problems. If you can't do this, keep your promo code simple like VDAY and avoid using characters like zero which can be mistaken for the letter o or the number 5 which some mistake for the letter S. Think like a consumer while creating your campaign and it will help you to avoid these common problems.
Josh Clysdale
@ Feb 7, 2012 at 8:39 AM
Thanks for the all the great tips Kristina, any way to help customers accesses promos faster and easier is always a plus. The less effort it takes for a customer to purchase using your promotion the more likely they will take advantage of future promotions.
*For those interested in working with promo URL strings please see: http://documentation.vin65.com/Store/Promo-Builder/Advanced-Promotions-in-URL-String
Thanks, Josh
El Jefe
@ Feb 7, 2012 at 6:54 PM
Good post with lotsa good info (esp. regarding fr** shipping). But you kinda forgot step #0: define what you want your promotion to achieve. Are you trying to move out the last vintage to make room? Are you trying to acquire new customers? The purpose will define the parameters of the promo.
Also, I don't know that I agree with training your customers to look for your deals. There is a local winery that has a case sale every year. They sure blow out those cases on that one weekend, but they've created a situation where the customers now expect the sale and don't otherwise make purchases. Promos should be special, and depending on the purpose of the promo, not all customers will see it.
David Rossi
@ Feb 8, 2012 at 4:47 AM
Good ideas Josh. In my experience, free shipping doesn't work as well for my customers as discounts. However I do see a lot of people that balk on an order because of the shipping costs. Being able to do both simultaneously would be an idea to test.
It would be great if VIN65 could add the ability to to offer a % off the product AND free shipping as one offer. For example: Use promo code xxx and get 15% off wine and free shipping. Right now I can discount or offer free shipping, but not both at the same time.
I'd be happy to test this option to see how it works
Josh Clysdale
@ Feb 8, 2012 at 8:40 AM
Great points Jeff. As with any venture it is best to count the costs of you promotional campaigns, and have a clear goal in mind. After your campaign you will also want to evaluate how successful your campaign actually was, did you reach your target market.
Devaluation of your brand is a real issue to keep in mind when choosing how often you offer promotions. Once you train customers to shop only for deals, as you mentioned, it's hard to get them to make regular purchases. Certain times of the year, such as statutory holidays are times were customers will be more inclined to expect some sort of offer. But it is best to vary the timing of other promotional offers and the types of promotions you promote.
Admittedly small to midsize wineries would want to be conscious of how often they offer there promotions. These should feel like a "special offer" not just another sale. Whereas a larger winery or wine retailer might encourage a regular offer, varying to type of offer given.
Thanks again for the feedback. All great points. Josh
Josh Clysdale
@ Feb 8, 2012 at 8:53 AM
David,
It's great that you are in tune with what promotions are working for your customer base. Knowing who your customers are is a main component of planning your promotion strategy.
To create promos that work together in tandem you will want to use the "coupling feature". I'd be happy to send you a further email on it.
Thanks - Josh
Ana

@ Feb 9, 2012 at 1:28 PM

Great post! I think that a way to avoid customers to expect deals is to offer it on selected items and Vin 65 has the feature that allows for the promo code to be valid for certain items. This really helps to strengthen the "special sale" concept. Specially if you design the sale correctly and focus it on a particular vintage, or a selection of small production wines etc.

Commenting has been turned off.