August 13, 2012 | Jason Andres
6.5 Easy Fixes for a Better Wine List Page
The wine list page – It's the page that shows a series of wines that your website visitors commonly see before they click to learn more about a specific wine.
How can you get visitors on this page interested enough to buy your wine?
Below are 6.5 easy conversion-helping tweaks you can make to your wine list page.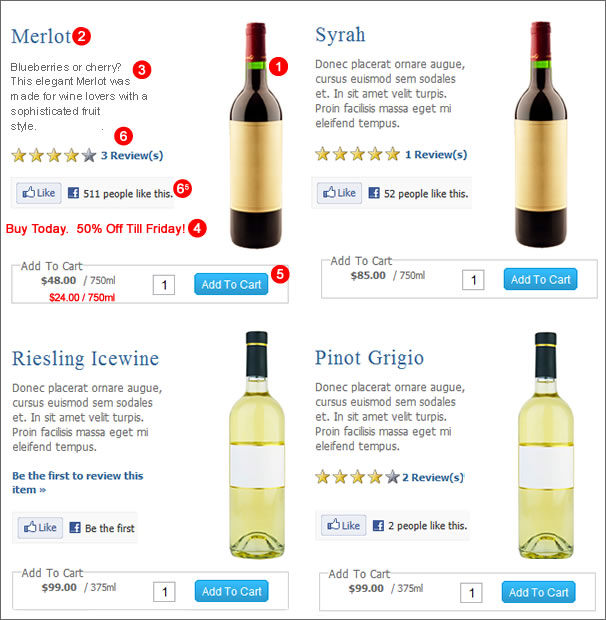 1. Quality Pictures
Online visitors can't physically touch your products, so enticing them with a bottle shot is crucial. People like to see what they are purchasing. Show good quality, professional pictures of your wine bottles. Showing no images, low-resolution images or wine labels loses attention quickly which hurts conversion.

2. Product Title
It's a title for a reason; make it stand out. Choose a larger font size, make it bold, ensure the title is descriptive of the wine, and link it to further product detail. There are too many sites where the product title is lost in a sea of unnoticeable and blah looking text.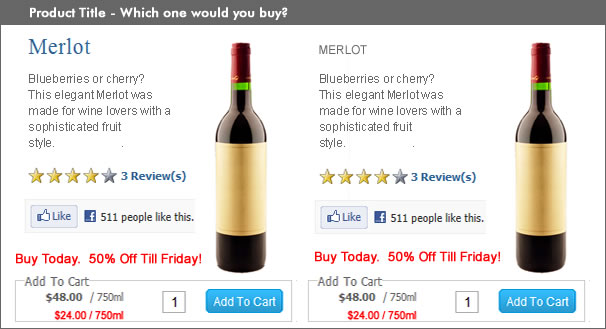 3. Teaser
Pique your visitors' interest and curiosity with a quick and catchy product teaser so they're compelled to learn more about your wine. For example, you can tease visitors with a proactive question then follow it with a quick statement that reveals limited yet important info.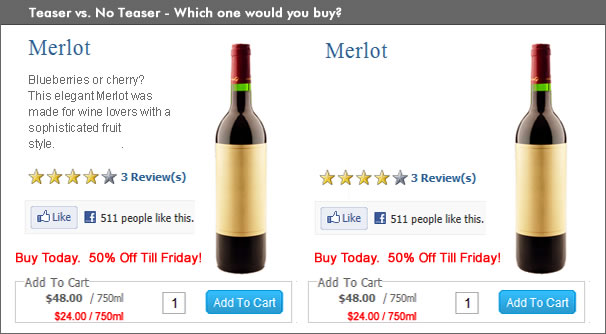 4. Call to Action
Tell your visitors what you want them to do with a clear call to action. Make it obvious; otherwise, they'll never know what to do or where to click. Whether it's to take advantage of a special offer or discount, ensure you're clearly encouraging the action.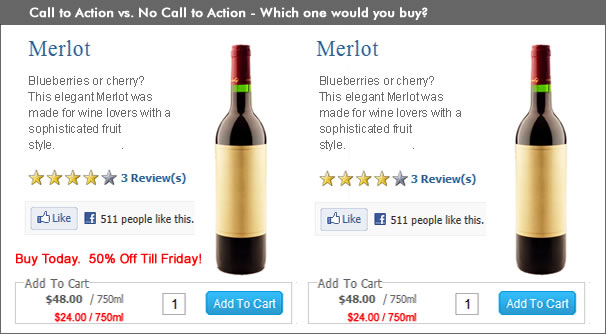 5. Add to Cart Button
The "add to cart" button is a convenient button that's great for your repeat customers, who just want to get in, buy wine and get out. Make it noticeable.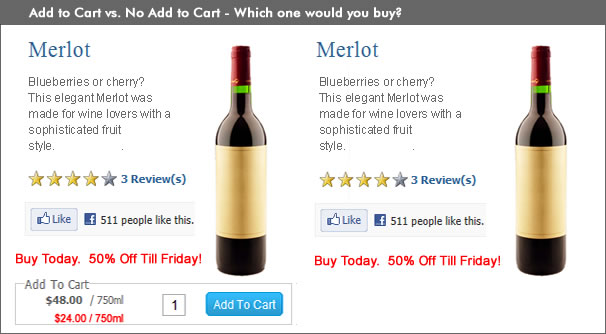 6. Reviews and Ratings
When a customer sees a bottle of wine that has a 5 out of 5 star rating and boat loads of positive reviews and recommendations, chances are, other customers will be more inclined to purchase.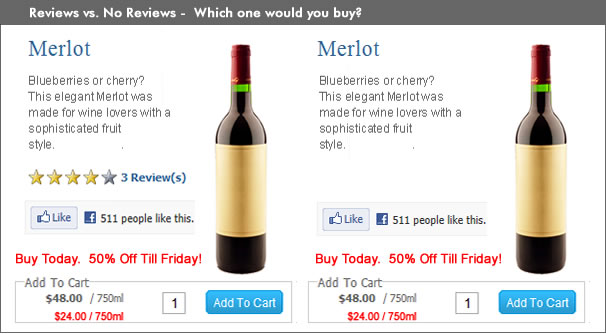 6.5. Social Media Widgets
This is where the 0.5 comes in. Similar to reviews and ratings, if your wine has social proof (511 Facebook likes, for example) it can help to build trust and drive conversion. Plus, your biggest fans can easily spread the word about how much they adore your delicious wine.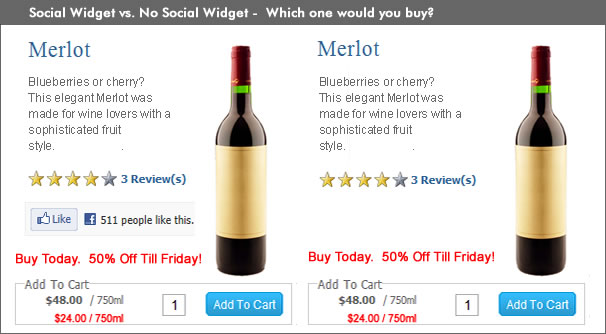 ~
Have you made any little changes (similar to these examples or not) on your wine list page that helped with your online sales?
Go ahead and share your comments below.
Comments
Richard Hurtz
@ Aug 16, 2012 at 9:07 AM
Wow - an "add to cart" button?! I would have never thought of putting one of those on my product page. Plus a description? This is mindblowing stuff; really pushing the envelope...
Krista
@ Aug 16, 2012 at 9:20 AM
Richard - Thanks for the comment. It's surprising how many winery websites don't include some of these basic elements, especially product descriptions. Sometimes what can seem obvious, can get overlooked. These "easy fixes" were meant more as reminder to wineries of the key elements to include to make the page more effective.
Richard Hurtz

@ Aug 17, 2012 at 12:08 PM

I suppose that is true, and you're right that a good deal of winery websites lack some very basic elements.

I think having unique product copy is very important. As is incorporating the customer reviews and Q&A dialogue if possible. Rich snippets are another great thing to include - the prices, availability, and other data can be embedded in search results and really boost CTR. And of course, good page titles, keyword usage, meta descriptions, and even "related products" can all help in the conversion process.

Commenting has been turned off.