February 22, 2010 | Marketing | Peter Andres
Bridging Marketing Channels - Converting Tasting Room Visitors into Profitable Mailing List Members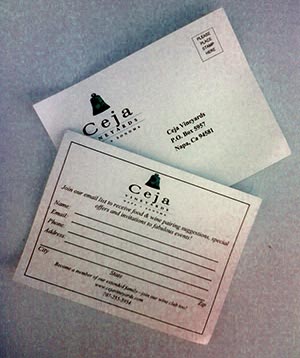 One of the powerful things a winery can do with tasting room traffic is convert them from casual visitors to members of your winery's mailing list.
Tasting room traffic tends to reflect passing customers who are on the "tour" and once they leave your tasting room they are gone. If you are lucky enough to stand out in their mind there is still a good chance that they will forget your website address, and they won't take the effort to track down your wine.
Converting tasting room traffic to members of your winery's mailing list offers great marketing opportunities that you can tap into for sales year around and for years to come.
I especially like the Ceja Vineyards tasting room sign up form because it doubles as a postcard as well. If the visitor doesn't get around to filling it out in the tasting room they can always put it in the mail later. I might also suggest prepaying the postage to make the sign up process even easier, and maybe have check boxes as to what they are interested in so you can market to segmented lists, another strategy to customize your mailing list communications. You could also enhance the sign up form a little by putting a photo of the tasting room staff or have a photo of the wine bottle on one side to strengthen emotional attachment.
These types of tools and strategies are so easy to execute on the office color printer. You would expect that every winery would have some mechanism to transform their most fleeting customers into more engaged, profitable customers, yet so often we find tasting rooms just don't execute on these tools at all.
Make it your goal this year to do simple things like this. It will make a difference to the bottom line in the long run.
Comments
Mike Duffy
@ Feb 22, 2010 at 12:58 PM
I think one additional place the process of signing up tasting room visitors is that there's no clear benefit to them. Even the copy on the Ceja postcard is pretty bland. The usual "to receive food and wine pairings, special offers, and invitations to fabulous events."
If all you're sending them is a sales pitch, then people aren't going to want to do it. And that's the expectation: a sales pitch.
So, what did people who signed up actually receive last year? What came in the mail (or e-mail)? What events did they get invited to? What other goodies come along with signing up?
If you know the lifetime value of a mailing list customer, you can even figure out how much of an incentive (corkscrew? coaster? ...?) you can offer to encourage a sign up.
*Show* the benefits of providing contact information, and I think you'll see the benefits.
PS: if people don't like your wine, they definitely aren't going to sign up.
Mike Duffy
@ Feb 22, 2010 at 1:10 PM
That first sentence should have read "...one additional place the process of signing up tasting room visitors FAILS is that ..."
Andrew Kamphuis
@ Feb 22, 2010 at 4:07 PM
Great post. How many tasting rooms have you been in where there is a email signup sheet but nobody asks you to enter your email. While I think what Ceja is doing is great - I would also like to see wineries come right out and ask for my email address (type it right into the POS as I place my order). I think asking for the email is more effective than a signup sheet which is more effective than a postcard.
Peter
@ Feb 22, 2010 at 4:44 PM
Mike, I agree that the benefits could be spelled out, and maybe the copy could be enhanced. Andrew, I agree also that putting the email directly in the POS is a good idea, but if you have a busy tasting room it might not always be possible to capture that information, or if you have 5 people in the tasting party...are you going to ask everyone individually even if they don't purchase anything?
I feel like so many wineries don't even do the basics...and this is a great start.
Susan Hanshaw
@ Feb 24, 2010 at 8:09 AM
Great to see this piece of golden advice! With all the focus on maximizing direct to consumer sales, wineries need to better recognize that it all stems from your lists of customers and prospects. I grew up in the direct marketing world of catalogs and magazines, where brands would pay big money to rent prospect names and contact info that they were only allowed to use one time! Not capturing or using contact info that is provided by customers who have sampled your wine is like flushing cash down the tube.
And while we''re looking at that tasting room data, think about adding social network contact info. If you really want social media to be a direct to consumer channel, here again you've got to focus on the list.
Diane Thompson
@ Feb 24, 2010 at 10:05 AM
My experience is that, not only do most wineries fail to capture customer contact information in the tasting room, but even when they do, precious few follow through and actually use it. I sign up for a lot of winery lists because I am interested both professionally and personally and it is shocking to me that I receive so little communication - absolutely no attempt to build or reinforce a relationship with me, even when I have already purchased wine, and identified myself as likely to buy again. Just recently I was at a well-known Napa Valley winery for their release day party; purchased wine (over $50 a bottle) and they did not even ask me for an email address. What will it take for these businesses to "get it"?
Larry Chandler
@ Feb 24, 2010 at 10:53 AM
Many people are reluctant to give out email addresses because they receive too much email and/or are afraid it will be sold or given to others. While a winery should ask (perhaps as Ceja does) or have a signup sheet, it should be made clear that the email will not be sold or rented and state how often an email be sent. Let it be completely voluntary and appear to be so. Perhaps offer a slight discount if the email is given?
Another way is to ask to become a fan or follower on Facebook or Twitter or other social media app. A printed card that can be returned with an email address can also include the Facebook or Twitter account names. Let the customer decide how much of a relationship he wants with the winery. And if a winery doesn't have a presence in social media, now might be a really good time to consider one.
Some wineries never collect email or even seem to care if the customer returns or buys more wine. Let's see how long they will be around.
Amelia Ceja
@ Feb 24, 2010 at 11:11 PM
Hello Peter,
It was such fun meeting you at ZinsValley Restaurant on February 11, and, seeing you again at Ceja Vineyards in Carneros the following day, was even better. Thank you so much for making the trek to our beloved Carneros in the Napa Valley and for including our "Join Ceja Vineyards Email List" in your blog.
We agree with Mike, Andrew, Susan, Diane, Larry and you -- wineries often miss opportunities in capturing visitors' contact information. You all offer great advice and we are listening to your suggestions -- muchas gracias.
You all have an open invitation to visit us to taste our legendary Ceja wines anytime!
Amelia Ceja
Peter
@ Feb 25, 2010 at 1:16 PM
Amelia...it was great to see you and get some amazing Ceja Chocolate. And congratulations on your Cabernet Sauvignon by the way!
Amelia Ceja

@ Feb 25, 2010 at 5:41 PM

Hola Peter, Yes, Ceja Cabernet infused chocolate sauce is delish especially with our silky and seductive Napa Valley Cab. Sauv. See you next time you're in town. Salud!

Commenting has been turned off.