October 2, 2009 | Marketing | Peter Andres
Connecting to your wine website visitors
In my last blog post "The Experience" I talked about how winery websites face the challenge of sharing a persuasive experience on their website, or share the essence of the winery and wine.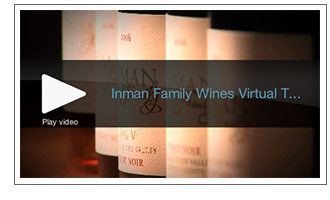 I just wanted to point out a great way to enhance the connection between your winery and visitors to your web site, which is video tasting notes or messages from the wine maker and/or wine owner.
I thought this was really powerful for a couple of reasons:
Builds a personal connection between the people in your winery and your customers. Faces matter more than you think
Although people can't taste and smell wine on your site, seeing and hearing someone doing that might just want to make them come and try it out.
Visitors are more likely to watch someone talk about wine than read a couple paragraphs about it.
Videos are really easy to share.
Here are some great examples:
Inman Family Wines: Video message from Winemaker/Owner Kathleen Inman
Ceja Vineyards: Tasting notes on every wine, here is an example.
If you are thinking about adding videos to your wine website there are lots of ways to get out there from doing it yourself which is totally acceptable in today's social media scene, or go pro - Artisan Media specializes in digital marketing for wine.
Comments
Larry Chandler
@ Oct 2, 2009 at 3:32 PM
Recreating the tasting room experience outside the tasting room is a very great idea. Perhaps one way to enhance this is to do one of the online Taste Lives simultaneously in the tasting room and with wine lovers and wine bloggers at home and an open chat line to talk about the wines. If the winemaker can pour wine in the tasting room and participate in the chat so much the better.
If a video in the tasting room can be made of this, it can then be posted on the site afterwards perhaps with highlights of the chat comments.
Ariel Ceja
@ Oct 4, 2009 at 8:52 PM
Thank you for including a link to Ceja's online videos! We've received great feedback from clients that have told us our videos have influenced their online purchasing decisions.
Dan Chapin

@ Oct 5, 2009 at 11:23 AM

Thanks for mentioning us Peter. I think it is worth mentioning that the next frontier for wineries will not only be leveraging the power of video marketing, but measuring it as well. You Tube has some new analytic tools, although I personally feel that the streaming quality is not in line with the quality perception standards for most wineries. There are several off the shelf products/services out there that help companies stream video in high quality HD and most importantly, have the tools necessary to measure conversion rates, avg. viewing times, etc. I would love to see more wineries using the click through tools on the more sophisticated viewers to drive traffic to the respective product pages. And ideally, no matter where the video is played (i.e. Wine&Food.com) it should stream from one source which will allow marketing professionals to see which online channels are most effective and driving the most visitors and online store conversions.

Commenting has been turned off.