October 10, 2011 | Ecommerce, Marketing | Andrew Kamphuis
Facebook Ecommerce - Will Customers Buy Wine on Facebook?
I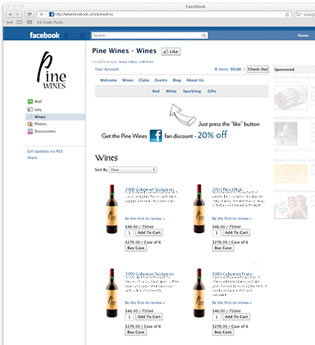 f you're like most internet users, you start your day by checking Facebook and you probably check again at the end of the day. If you're like our employees, you're probably also checking Facebook at work. There are over 800 million active users on Facebook, and Facebook accounts for 1 in 5 pages accessed on the internet.
So Facebook has a large audience, but will this audience buy wine? Here's 5 reasons I think they will.
1. Facebook already drives ecommerce traffic to your website.
There is some debate about whether Google or Facebook drives more traffic to a website, but it's clear they are both key traffic sources. Facebook is the number one or number two driver of traffic to your ecommerce site. (Source / Source).
2. Facebook customers are good customers.
American Eagle found Facebook-referred visitors spend an average of 57% more money than non-Facebook-referred visitors. GiantNerd.com saw a 100% increase in revenue from Facebook within two weeks of adding the like button. There are several other Commerce Stats here. (Source)
3. Facebook is where your customers hang out.
There are more than 800 million active users on Facebook. More than 50% of users log onto Facebook in any given day. (Source)
4. Facebook is already a viable retail platform.
According to Booz Allen, there are $5 billion in goods being sold on Facebook in 2011. In the alcohol market, Social Commerce Today has a great story about Magners Cider and closer to California, wineries such as Silver Smith Vineyards are already selling wine on Facebook. (Source / Source / Source)
5. Facebook commerce is growing.
According to the same graph in number 4 above, Facebook commerce will be a $30 billion industry in 2015. (Source)
~~
At Vin65, we launched our Facebook Ecommerce App today. Show and sell your wine inside Facebook. Create custom Facebook fan pages. While there is a small setup fee, there is no additional monthly charge to our existing clients, and it's fully integrated with our platform.
In developing this app, we stepped on the shoulders of other innovators including both Vintank Social Connect (Cruvee) and Social Candy who have developed great apps on Facebook.
While I might have some bias, I really believe that Facebook commerce is here. One of the key pieces for me in our Facebook Ecommerce App build was the addition of Google Analytics along with our reporting and dashboards. Like mobile and our iPad app, we'll be watching closely as Facebook traffic grows and our Facebook ecommerce app evolves.
Check out some live examples and let us know what you think.
Demo Store: http://www.facebook.com/PineWines
Ceja Vineyards: http://www.facebook.com/CejaVineyards
Twisted Oak: http://www.facebook.com/twistedoak
Comments
jake
@ Oct 10, 2011 at 9:28 AM
What a cool platform! I'm sure this will be huge. I've never put the effort into buying wine online, but I think I'll try it now...great job.
Patrick
@ Oct 10, 2011 at 9:29 AM
Free advice: Avoid Facebook. It tracks every move you make. There are plenty of other good ways to get wine in this world.
Andrew Kamphuis
@ Oct 10, 2011 at 9:37 AM
Thank you Jake.
Patrick it's true that Facebook security/tracking has been less than steller and it's true to some degree the track you. However there is no doubt that wine customers are on the platform. Until these customers abandon Facebook for some other network a winery needs to be there.
Our Facebook app runs in an iFrame being served from our servers (so Facebook doesn't have insight into what is going on inside our app). Having said that most clients choose to turn on Google Analytics as well as Facebook social sharing (like Facebook like). Both of which have some tracking built in.
Also Amazon, Google, most banner ads, and most large web companies have some tracking built in.
Bob Snyder
@ Oct 10, 2011 at 10:59 AM
This sounds great but is this legal in all viable states? Wouldn't there be issues with your store front being represented as Facebook first and your licensed brand second?
Andrew Kamphuis
@ Oct 10, 2011 at 11:10 AM
Bob, you should ultimately consult with your legal team about legal viability.
The Facebook App itself is served up via an iFrame from the wineries domain (not Facebook), the merchant account belongs to the winery - there is no cut for Facebook nor does Facebook see any part of the transaction or know that a transaction is taking place.
From the conversations we've had with lawyers we believe this is viable in the US if you have rights to sell wine in a given State but we advice that you consult with your own legal team. There are some large alcohol companies selling cider, wine, etc already on Facebook (we aren't the first).
Our platform is used around the world (we ourselves are Canadian) and we believe that this is viable in our core markets of USA, Canada, and Australia.
(BTW there is some cool stuff we can do because the initial load comes from Facebook we can outright block people under 21 in the Facebook app settings, and limit what a customer sees based on their location).
Craig Haserot
@ Oct 11, 2011 at 12:14 PM
Um, show us the money. Talk and better yet consulting BS is cheap (or expensive for that matter) when it comes to Social Media. Very cheap.
When you have three successful reference customers with very specific financial finaicial figures that you are willing to post, get back to us. :)
Andrew Kamphuis
@ Oct 11, 2011 at 2:18 PM
Craig, thanks for your comments. Your right talk is cheap.
April 6, 2010 I have a blog post showing mobile traffic across our platform at 2-5%. Today it's between 9-13% for a winery on our platform with a mobile site. Technology changes and fast.
Facebook commerce is just starting. We launched Twisted Oak and Ceja about a week ago. It's way to early to use them as Case Studies (the marketing hype, etc drives sales this week).
We'll have the numbers in 6 months or a year. There always has to be first movers, and first movers like Twisted have a great advantage (they learn first hand what works, etc). You can contact Twisted Oak today and We'll have numbers in a year - or you can be progressive and be an early adopter.
Mark Aselstine
@ Oct 17, 2011 at 4:06 PM
Andrew,
I think part of my question is how the app helps to drive new people to the site. To me, that seems rather missing and makes me hesitate away from spending the set up money which isn't insignificant compared to other FB programming options.
Most of us have some sort of Facebook presence already, but getting new fans is more challenging for those of us who don't operate large tasting rooms. Also, even for those with large amount of foot traffic coming into tasting rooms, I wonder if sending people to your Facebook page is any better or worse than simply collecting their email address for later use. The real question is if the page views from FB are a good for established brands or start ups.
I have no doubt that sales from FB will continue to increase, but in our testing and from others we've spoken with, it's still a rough hill to climb if you don't have a recognizable brand name.
Andrew Kamphuis
@ Oct 18, 2011 at 7:30 AM
Mark - the ecommerce portion of the app doesn't drive people to the site. (In violation of the blog post I wrote earlier this year - http://www.vin65.com/blog/Your-Wine-Website-is-the-Hub) - the e-commerce portion of the app is pure convenience for your customers who spend an enormous amount of time on Facebook already.
Having said that, the app allows for custom pages and other content which you can use to drive people to your site. The app has the potential to help you gain new fans as people can "like" your wines, and social share those wines with their friends on Facebook. (You can also run engaging content inside Facebook such as polls, QA, etc that can attract new fans).
If you had to choose between sending people to your website or sending them to FB - I would definitely collect their email address and send them to your website. The FB app isn't designed as an "either/or" concept - it works better if you have a website (it's just reusing the products on your website and bringing them closer to your fans on FB)
Ecommerce Software

@ Jan 11, 2012 at 10:22 AM

People use Facebook more often. However, I think having your own website aside from your Facebook page is better to increase your sales.

Commenting has been turned off.