June 30, 2010 | Design, Marketing | Andrew Kamphuis
How often should you update your winery website?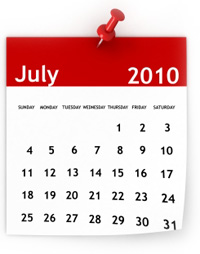 Keeping your website fresh is key to its success. Visitors won't return if the content is stale and dated.
So how often should you update your site? As often as possible! (Sorry for the smart ass answer.) In reality the answer varies from website to website and depends on your audience and your goals.
Let's look at the different sections of your site.
Ecommerce:
Update your specials and offerings as often as you want customers to return to your site. For wine retailers you probably want customers returning every week or two weeks. For wineries it's probably more realistic for customers to return once a month.
You also want to ensure your product content is as accurate as possible. New products should be offered on the site at the same time they are offered in your tasting room or store. Product ratings, reviews, awards, and other details should be updated as soon as possible.
At a minimum, you should review your store once a month.
General Content:
Some content might not be important to update as often. For time sensitive information (such as events, allocation information, etc) a strategy should be in place to ensure this information is kept up to date (Most content management systems allow for content to be added or removed from a site on specific dates). If the most recent winery events that appear on your page are several months (or years) old, your web visitors will get a sense that you're not enthused or not paying attention to details.
You should probably review your general content at least once a month.
Blog:
If your goal is daily or weekly visitors then you need daily or weekly blog content. With blogging it's important to have consistent updates if you want long term readership.
Design:
The design of your site needs to be updated a lot less frequently than the content. Your design should be updated if it's starting to look stale, if you're missing features, if it's falling short when compared to your competitors; or anytime you update your brand, logo, or business cards.
Design changes should be evolutionary rather than revolutionary. Repeat visitors need to feel like your site is changing for the better and should be able to figure out any design changes.
For most wineries and wine stores, we suggest the design of your website should be rrefeshed every one and half to two years (again this often should be evolutionary and minor rather than full scale redesigns).

If you feel like you need to update your website... you're probably right. What do you think?
Comments
Larry Chandler
@ Jun 30, 2010 at 9:30 AM
Well said Andrew. It's really not hard to keep a website updated. If you build this into the design of the site, you can create an area that can be frequently and easily updated without changing the overall look of the site. Holiday offerings, special events, limited bottlings, all can be placed in an area that can get immediate attention while those who are looking for the same things as last time can find them quickly.
It's also true that if you don't update events or other information on your site, people may feel you haven't updated your inventory either. They may be reluctant to place an order. You may know your inventory is always updated, but the customer may not know that.
When the site is updated for whatever reason, you can notify customers via Twitter, Facebook, email, and encourage them to visit the site. New landing pages for these promotions can also help. Blog posts can provide details of what is happening in the vineyard, cellar, or tasting room. Images in addition to text can help to make the post more interesting.
Your site is also more easily found on search engines if you update frequently.
Keeping a site fresh doesn't mean a total re-do, but small changes can keep people coming back and perhaps buying more of their favorite wines.
Randy
@ Jun 30, 2010 at 2:15 PM
Update your website weekly with new news, a few photos, text, etc. The reason is that google acknowledges this and when resetting itself ever few days, google places your site higher on the results page when your 5-7 key words are typed.
We update frequently and remain on the top 1-4 pages of all searches related to our specific winery.
Cheers!
Andrew Kamphuis
@ Jun 30, 2010 at 3:00 PM
Randy, your right - Google does love fresh websites, and it's long been known that a freshness of a page is an SEO factor. Just make sure your updating your website for your users more than you are doing it for search engine rank.
Suzanna

@ Jul 1, 2010 at 9:02 AM

Thanks for the blog update. I value the information you share and agree!

Commenting has been turned off.