December 15, 2009 | Design, Marketing | Andrew Kamphuis
How to guide your customers to a purchase?
Your customer is on your winery website, has found the wine he wants, has placed his purchases in the shopping cart and is now ready to checkout.
Which of the following two shopping cart pages triggers the behavior you want your customer to take?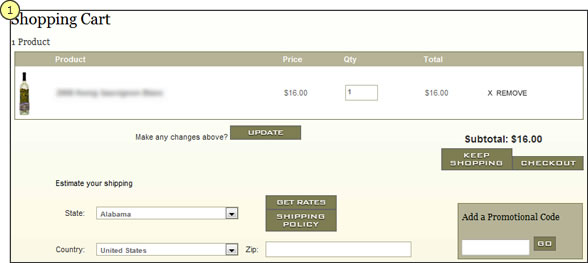 vs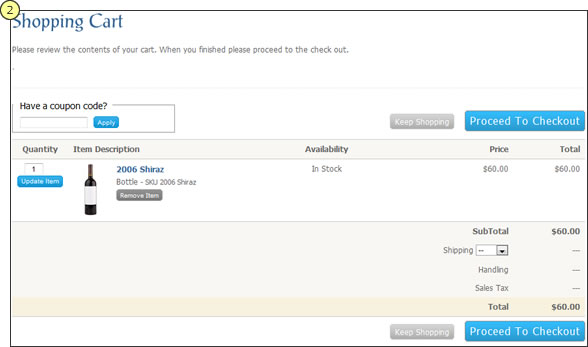 All buttons are not equal. One of the 3 tenets of the Fogg Behavior Model is that you need to trigger the behavior you want customers to take.
Once an item is placed in a cart, you want the the path to checkout to be very clear. Yes you still need buttons to change the quantity, check their shipping, etc but the largest most contrasting button is the button most often clicked and this should be the checkout button as illustrated in design #2.
Comments
Christine Roffi
@ Dec 15, 2009 at 9:39 AM
Applied Behavior Analysis used on Wine Buying... I love it except that I chose model #1 as my favorite checkout shopping experience... I must be in a real brain fog. Blame it on the wine. Cheers!
Brent Johnson
@ Dec 15, 2009 at 11:39 AM
@Christine Roffi I'm curious why you picked #1, would you care to elaborate?
Here are my thoughts - I find the shopping experience less than ideal in #1 since the logical flow is to keep shopping instead of check out because of the buttons' cumbersome design. The example causes additional work for potential purchasers since they have to find the checkout button which is less predominate than the others. When your potential purchaser is in the cart, the main goal of any site is to move them to the checkout page. In my opinion this is achieved in example #2 with the contrasting color and larger size.
Wider Funnel worked with SAP Business Objects (the world's largest business software company) to improve their lead generations on a landing page. They improved the conversion rate by 32.5% with the additions of a 'Big Orange Button' which made it clear to the website visitor what the next step was, in this case, to download a trial. (View the article: http://www.widerfunnel.com/proof/case-studies/sap-landing-page-optimization)
Here are some other posts that talk specifically about conversion (add to cart or navigating to the checkout) and how important the clarity of the buttons are: http://multichannelmerchant.com/ecommerce/0713-add-to-cart-button/ http://econsultancy.com/blog/4064-call-to-action-button-design
Ariel Ceja
@ Dec 15, 2009 at 12:57 PM
I'm constantly purchasing products online and I find it bewildering how cumbersome and outdated some checkout processes work. It's all about the "clear and simple." Go #2!
Tim S.
@ Dec 16, 2009 at 11:15 PM
I have to say that in some cases having every "button" be the same design, has appeal that you don't really touch on here.
I like #2 better, it's very clear how to check out. It's still a good idea to make two versions (at least) and setup A/B Testing, and let the stats do the decision-making for you.
I'd be curious what your opinion would be on taking it a step further, and don't make them hit "Checkout", but rather assume they want to checkout when an item is added to cart (assuming the 'add to cart' page included a qty field), and rather ask them: "Did you want to continue shopping? Yes or no" kinda thing?
No would obviously take them to checkout.
That seems even more applicable in the environment of small boutique wineries than something like Amazon where it is more frequent that multiple line items are added to each order.
Andrew Kamphuis
@ Dec 16, 2009 at 11:20 PM
@Tim - Some great thoughts there. I can tell you that #2 will almost always outperform #1 in an A/B test (but you should always be testing, and not every site will respond the same).
Great idea on the 'straight to checkout without going to a cart'. That would be interesting to try out and test (like you say, this would be great for boutique wineries). Have you checked out our new 'cart' on sites like www.twistedoak.com or www.geerwade.com. We've gone away with the 'cart' page when you hit the add to cart button.
Tim S.

@ Dec 22, 2009 at 1:57 PM

Hi Andrew, I hadn't visited twistedoak.com in a while, but always loved the site, and having just visited I'm very impressed with the new cart system you have going on that site. Great work! You never stop making improvements.

Commenting has been turned off.