June 14, 2009 | Ecommerce | Andrew Kamphuis
Improving Customer Experience Part 1: The Modal Cart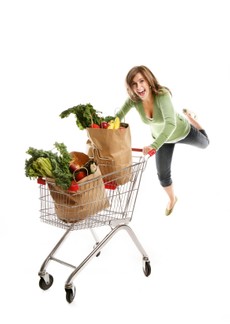 Have you ever really thought about the 'Add to Cart' function on your ecommerce site? In a typical experience (and this is true on sites we build), you are in the store, you look at an item, you click 'add to cart' and you are taken away from the product you are looking at and redirected to a completely different area of the website where you focus on the items in your cart.
Imagine if the offline world behaved the same way. You walk through the grocery store, picked up an item, looked at it, and then when you added it to your shopping cart you are whisked away to a different part of the store and all you can see are the items in your cart.
One of the big ways to improve a user experience on the web is to not take users out of the context they are in. In a site we launched last week, Twisted Oak does this 'Add to Cart' experience well. If you are on a product list page and click 'Add to Cart' (or Add To Sack in this case), you stay on the same product list page and a little 'modal' cart drops in to let you know the item was added. If you are on a product drilldown page, and click 'Add to Cart', the same modal effect. The user is never whisked away to another part of the site.
From a user perspective this "modal cart" becomes more like the real world shopping experience where you add something to your cart, and continue down the same isle.
What do you think?

Comments
Matt Wood
@ Jul 2, 2009 at 11:39 AM
Sounds interesting, were you able to compare results yet, ideally within the same site using an A/B test, or if not, with the totality of experience on checkout's not constructed this way. Will you be presenting any results and will this new approach be an option for existing users.
Matt
Andrew

@ Jul 2, 2009 at 11:46 AM

Matt,

We don't have an A/B test around the new cart, but I would love to do one. (One of your sites could be a good candidate :)). We have a number of websites using this new cart option, and soon we will have a general feel of the conversion results.

A/B test results are sometimes tricky for us to present. Clients invest time and money and don't always want the results shared. We do however love it when clients are willing to share.

Most of the thoughts behind the new cart come from the ecommerce report written by E-consultancy. There is some great information in there and some case studies around these carts.

Thx.

Commenting has been turned off.