April 6, 2010 | Ecommerce, Marketing, Technology | Andrew Kamphuis
Is it time for your winery/wine store to have a mobile website?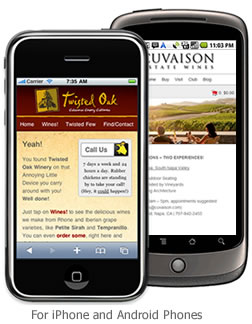 Late last year I was looking through one of our customers web analytics, analyzing some sales and browsing patterns and noticed something interesting - someone using an iPhone bought wine on this particular website.
We are hearing more and more about internet usage on smartphones - so is it time to target these mobile visitors? Let's look at some stats:
All of the websites we build work on the iPhone and Android phones, but the experience hasn't been particularly great. Like most traditional websites, when they are viewed on an mobile device it involves a lot of tapping, zooming, and scrolling.
While there are some big numbers in the links above, looking at the wine websites we build, we are only seeing between 2-5% of traffic from mobile devices. However even with these small numbers, I would argue that the time for a mobile site is now - for the following reasons:
The people who saw the largest successes from social media were the first people in, being early in gives you some first mover advantage.
Get in early, make mistakes early, and learn while the traffic is still small. Figure out what is working and what isn't working.
People might not spend a lot of time on your site with their mobile device because the experience isn't great right now. (Try visiting your own site on an iPhone or Android phone - would you want to spend a lot of time on it?) When the experience improves, they will spend more time and interact more - this has been proven.
~~
Today we launched our mobile ecommerce solution. If you have an iPhone or Android Phone visit http://twistedoak.com, http://cuvaison.com or our demo site http://pinewines.com. Let us know what you think of the experience. I would also like to hear your opinions on mobile websites and mobile commerce.

Comments
DrHo.ro
@ Apr 6, 2010 at 8:19 AM
Do you use mobify.me? WPtouch plugin? It would be interesting to hear about your design process.
Andrew
@ Apr 6, 2010 at 8:30 AM
@DrHo.ro - we have hundreds of hours into our design process.
We started off talking with Tyson at DesignVineyard and looking at what he was doing. We actually engaged them to design a mobile site for one of our clients. (I think they were the first doing Winery Websites on mobile devices).
We also looked at mobify and a few other solutions. Where we really spent time was when we looked at every one of the top 500 ecommerce websites (before Christmas less than 50 of them had mobile sites - some of them were great and some were poorly implemented) - I actually did a lot of this on my iPhone and it was a long process.
We really wanted our whole platform mobile (ecommerce, clubs, customer area for order history, etc). After our team made a ton of notes, Peter our inhouse designer did most of the design work. So just like our ecommerce platform the mobile platform is a homegrown solution and doesn't use mobify (although mobify is a great solution).
Right now our solution is a version 1 product. We think it's a great start, and we know there are areas where it will be enhance - it's going to be great to see how people start to use it.
Chris Oggenfuss
@ Apr 6, 2010 at 3:01 PM
Andrew and Vin65 team,
Great job on version 1.0. This is going to be big for wineries. Any plans for paypal API integration? Would break-down some friction in the checkout process on the mobile device.
Again Job very well done!
Andrew Kamphuis
@ Apr 6, 2010 at 3:57 PM
@Chris, No comment on the PayPal API.
I agree that the checkout is the biggest friction point in mobile ecommerce. Filling out forms on a mobile device sucks and none of the mobile payment systems have a commanding lead. We have played up our 'login' feature on the checkout to make checkout slightly easier (if you can remember your account). We've also modified the checkout forms so that they are as painless as possible. I still think more could be done here and I'm sure it will continue to get better.
Christine Roffi

@ Apr 8, 2010 at 7:51 AM

I think it is a fantastic idea even though it includes a lot of tapping, zooming and scrolling from the device... Simply because from a legal point of view you are not allowed to bring your own laptop in a public spot to capture people's orders... So what do you do when you get them all excited about your wines? Send them an e-mail a week later when the excitement has faded away?

Commenting has been turned off.