May 12, 2014 | Ecommerce, Misc, POS, Vin65 Platform | Andrew Kamphuis
Compliance Should Be Simple - And Sell More Wine
Today, our parent company launched WineDirect Compliance. Our CEO, Joe Waechter, has a blog post here explaining why we built a compliance tool, and the thought process behind it.
As the COO of WineDirect and President of Vin65, I got to sit in a lot of the compliance meetings - here's our thought process: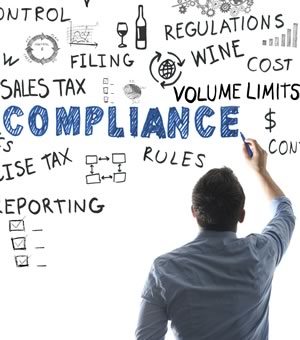 ---
For years compliance has been difficult. While there are a lot of rules and red tape – we want to tell you that it shouldn't be that hard.
We look at compliance like we look at credit card processing. It's an important piece of the business, with some complexity under the hood, but it's largely in the background. You have to get compliance right, but it should really stay out of your way. You should spend your day figuring out how to sell more wine – not the ins and outs of compliance. Like credit card processing – you should setup compliance and largely forget about it. It should just work.
We wanted our compliance tool to be simple. Everyday you login to your POS, you login to your ecommerce system - we didn't want you to have to login to compliance everyday (even with single sign-on). We want you to focus on selling wine instead of looking at compliance.
The WineDirect Compliance tool isn't a place to manage weather holds. Progressive wineries should do that in their ecommerce. Others will do that at fulfillment. The WineDirect Compliance tool doesn't email you every day with package exceptions – that's what fulfillment is for. The compliance tool isn't where you should manage your fulfillment – your fulfillment provider has the data and they should have the tools. The WineDirect Compliance tool isn't where you do benchmarking – you should have BI tools for that. The WineDirect Compliance tool isn't for editing orders – that's your order management system's job. Compliance should simply handle orders, calculate taxes, check compliance, and run reports.
At WineDirect, we want to make compliance simple. It should be something you setup – and then forget. You enter the rules, your orders follow those rules, and at the end of the month you generate some reports. While you can login anytime, it shouldn't be something you visit daily.
If we look at our new WineDirect Compliance tool – there isn't much to it. There's great product integration – you setup your product in Vin65 and it's automatically added to WineDirect Compliance. Your orders automatically flow to WineDirect Compliance - with the county level taxes. It has a one click setup if you're on Vin65 - so everything is preconfigured and ready to go. You review some rules, perhaps change or suppress some rules, and then that's it. You don't get a daily email – you get one a week. You have a little dashboard with some reminders of reports due. At the end of the month you simply print some reports and others you can electronically file.
WineDirect Compliance is simple for you, but truthfully, there's a lot to WineDirect Compliance. It has a ton of rules in the background, we've simulated it against a massive load (our entire traffic volume in October, November, December). We spent a lot of time validating everything, it has been carefully scrutinized by an attorney, we have hundreds of hours in testing, and there's a team of people behind it to ensure it's accurate and up-to-date. But from your point of view – there's nothing to it. Just like credit card processing. It either accepts orders, or pushes them back to you to modify and try again or simply not take the order.
--
Today WineDirect launches compliance. If you're a Vin65 customer, it's one click for us to set you up. There's a free trial until September. There's a "dual mode" if you want to run it alongside your existing compliance system. If you currently use Compli, we've partnered with them so they will use our real time compliance checks with the compliance they do for you (no need to switch vendors). For more information click here.
Comments
Commenting has been turned off.