February 24, 2015 | Ecommerce, Marketing, Vin65 Platform | Brent Johnson
Email: The Biggest ROI for Wineries
You're busy - there are a million things to do today on top of selling your wine. So, where do you focus? Where should you spend time to get the biggest bang for your buck - or in your case, ROI?
It's simple. If you're going to focus on selling more wine, focus on one email - this should be the email sent to your first time purchasers.
There's no magic - but there are a ton of stats that back this up. Of all the emails you can send, the email that targets customers who have only bought once is the most effective by far. With an average open rate of 59.2%, it outperforms any other emails you send.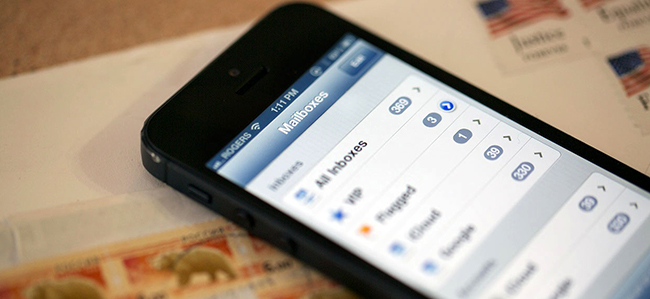 Let's take a step back. Looking at general emails - the open rate is about 28.9%. These are your newsletters, club emails and events. This is a decent open rate vs. comparable industry averages.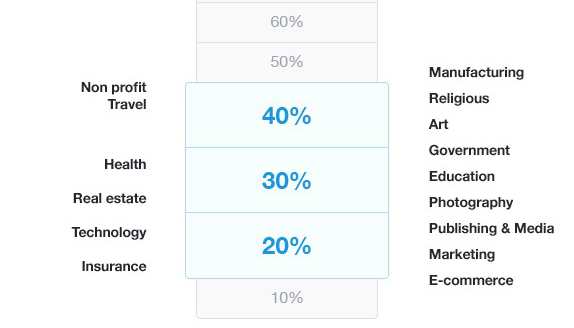 Going deeper, if you send highly targeted emails that are very personalized, the open rate jumps from 28.9% to 40.5%. Meaning that emails that speak to their recipients outperform the mass newsletters or promotional emails sent. Consumers want to be treated as a person with individual needs, not as a group of people who might be interested in similar things. Highly targeted email examples would be a birthday message, club anniversary, thanks for tasting with us, or rate the wine you just bought.
From these personalized emails - the best performing one is the targeted email sent to first time purchasers. The purchase could be from the tasting room, website, farmer's market or anywhere you sell. Consumers will open this email 59.2% of the time - or in another way to look at it, 6 out of 10 people will open this email.
These people bought from you and like your wine, and there a huge opportunity to turn them into repeat purchasers. First, make sure the tasting room staff are capturing email addresses for every purchase - in the tasting room, via phone, or at an event. Ringing in wine without any customer information stops the relationship. Wineries in the top 20% of DTC performers are paying their staff anywhere from $0.50 to $1.00 per email every time their staff collects an email. These wineries understand the value of turning that consumer into someone that will buy again and again.
These are the top 4 things to say in a 'first time purchaser' email:
Thank them for their visit and/or initial purchase.

Recognize that they are a first time buyer.

Solicit feedback.

Give incentives to buy more.
Below is a good example of a first time purchaser email. It definitely hits all four points.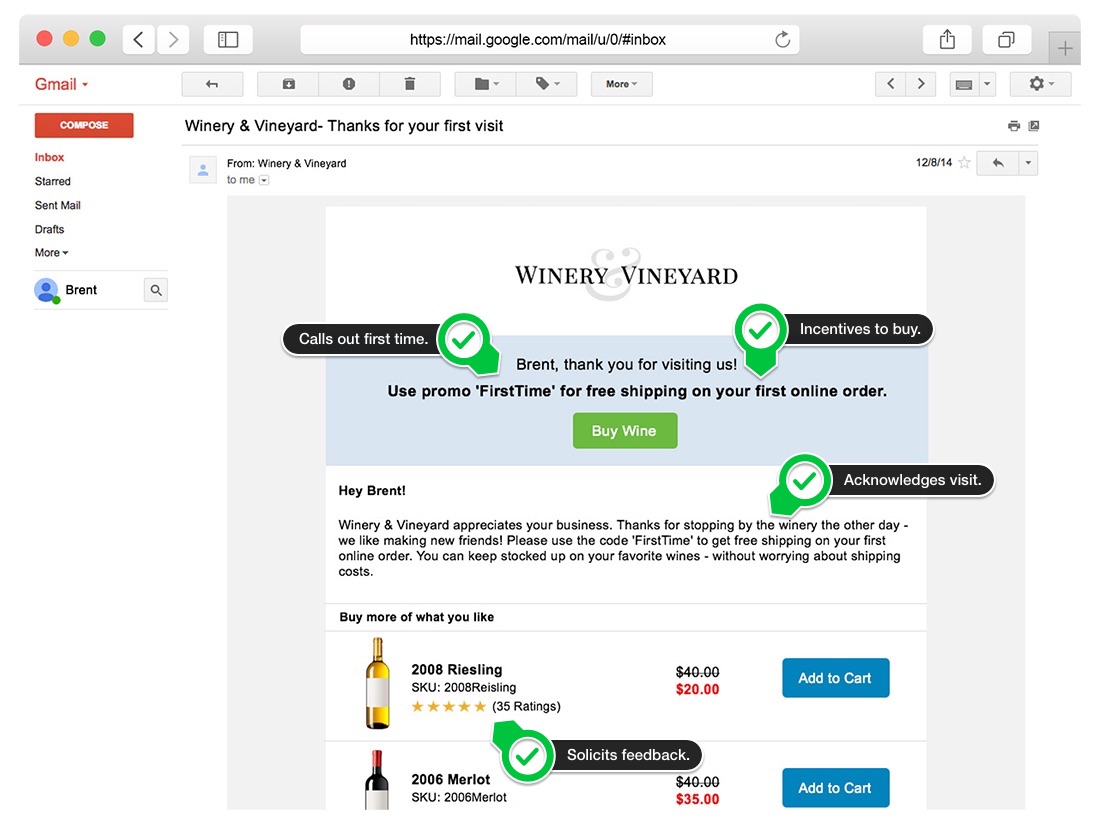 Comments
Trevor
@ Mar 10, 2015 at 4:08 PM
How does one add the blue action item at the top, and the recommended products at the bottom?
Trevor
@ Mar 10, 2015 at 4:30 PM
@Trevor - Depending on that email tools you provide will determine how you would go about adding these two items to your emails. Both can be added to any email tool (VerticalResponse, MailChimp, Vin65's tools, etc.) with varying ease.
Blue Action Item - This can be created through the design tools of your email. It's essentially a 'call out' section used to highlight text or an action.
Recommended Products - Depending on the email tool, this could be automated based on the order, or manually put in if you want to promote specific wines.
If you use Vin65's tools, you can email support@vin65.com and we can walk you through adding both of these items to your emails.
Meredith
@ Mar 11, 2015 at 4:28 PM
I did this type of email for the first time in February and targeted it towards first time buyers from January. I gave a promo code with 10% off their next purchase. As of today no one has used the code although my open rate was more than 60%. Do you think people are just jaded with a 10% offer? Or do they just not use promo codes very well? What kind of offers to the first time buyer have you seen that turn them into repeat buyers?
Brent Johnson

@ Mar 11, 2015 at 4:59 PM

60% open rate is a great open rate for first time buyers. Interesting that no one took the 10% incentive.

From our research, consumers will opt for a shipping incentive over a product incentive, even if the product intentive is a better deal.

Knowing that you have a good open rate, I'd suggest playing around with the offer. Try a different offer each quarter to see what sticks best with your consumers. 10%, 15%, products, shipping, exclusive wines, etc.

Commenting has been turned off.