March 10, 2009 | Marketing | Andrew Kamphuis
Too many social links?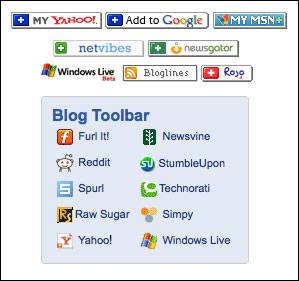 You see the links everywhere. Digg. Stumble. Add to Google. Redit. Del.icio.us.
It's clear that social media is here to stay. So how much social media should you put on your site? Will adding these buttons to your blog, to your content, or to your store bring you more visitors? More traffic? More sales?
Leading usability researches such as FutureNow, e-Consultancy, and others have done endless research on usability and e-commerce shopping. We've also done research in the wine industry.
As far as social media links, I've yet to see an research on the effectiveness of these links and I personally feel that the jury is still out but that studies are coming (and perhaps in the works right now)
Comments
Tim

@ Mar 16, 2009 at 6:08 PM

I don't like them very much personally. If those applications are good enough, you don't have to add this from the site in question, you'd add them through the app instead.

It distracts me when I open this in webpages.

It also seems too rigid. You can see the number of these applications is growing, already, but what's the limit on # of buttons you can put on your website? Or does it just become "you use the 10 most popular ones" and a startup with a cool idea then has to spend 2 years getting into this special group.

I like the social networking sites, I just think that the right approach is more along the lines of you like something, and so you say so in your social app, FROM your social app.

$0.02

Commenting has been turned off.