November 19, 2009 | Marketing | Melissa Dobson
Wine Producers Should Tweet More
Wine Futur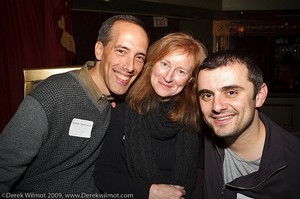 e just wrapped up in Rioja, described as "the largest wine world forum to discuss the current status of the industry," by wine educator Kevin Zraly. At this gathering of almost 1,000 wine professionals, wine social media's tornado of passion Gary Vaynerchuk didn't hold back on how he feels. He said that wine producers are missing a huge opportunity to talk to wine consumers via Twitter, Facebook and other social media platforms.
From the Decanter.com post: "I don't give a crap about Facebook and Twitter but I care about consumers," Vaynerchuk told Wine Future's attendees. "You should be embarrassed if you don't recognise that this platform allows you to talk to them."
Gary emphasized that his success isn't due to his high energy, wacky personality and toys he keeps on his table during Wine Library TV, but rather because he's passionate and he cares.
Love him or not, there are many wine consumers who flock to him, believe and trust Gary to show them the way, gain wine confidence and value their own palates. From the Decanter report, it sounds to me like he's making it clear as to why wine producers need to get savvy on Facebook and Twitter if they aren't there already. It's a huge missed opportunity not to engage with wine consumers.
Similarly, Jeffrey Hayzlett, Chief Marketing Officer at Kodak, described his team's social media ROI philosophy at last week's SM2Day conference as: ROI= Return on Ignoring.
Photo Courtesy of (CC) Derek Wilmot. www.derekwilmot.com -http://www.flickr.com/photos/derekwilmot/ / CC BY-NC-ND 2.0

Comments
Christine
@ Dec 8, 2009 at 10:11 AM
Great post Melissa!
I could not agree more with Gary's quote "... because he is passionate and he cares". Well, I was passionate enough to help my son and his autism's outcome (blame it on the French, Italian and Spanish blood) and I care about my community. I used to joke and say to his doctor "if I apply the same passion I put in my son's healing with my new venture it should be a smashing success :)! Tweeting, Facebooking, Digging away... whatever it takes. Cheers!
Melissa Dobson
@ Dec 8, 2009 at 11:25 AM
Hi Christine, Right, there's something about finding those things that we love and will push forward for. Nothing will stop you, but the key to doing it right is like Gary says, following your passions and not being afraid to show you care while you're doing it. I'm happy you found us here and told us your story. Best of luck and stay in touch!
Melissa
travel
@ Jul 6, 2011 at 12:49 PM
great i really like this post keep it up!
kamagra
travel
@ Jul 6, 2011 at 12:50 PM
nice post
generic viagra

@ Jul 6, 2011 at 12:58 PM

Well, I was passionate enough to help my son and his autism's outcome

Commenting has been turned off.